There's a few misconceptions going around about seeing a therapist. 
Of course we can help with depression and anxiety and other mental health problems but we can also help and support you when you are going through a difficult time at work. Work and career are an important part of your identity, you will have invested a lot of time and energy in getting where you are and then things start to change at work, restructuring, new management teams, contractual changes, shift in working patterns or location to name but a few! Suddenly you find the ground has shifted under your feet, major changes are happening and you feel anxious, unhappy and your sense of stability has gone. You start to doubt yourself and start looking to change your job or career. This maybe the time to start to think about getting support, therapists are trained to help you look at your choices and options and help you to adapt to the change in your working life.
Do you have difficulty setting and achieving goals?
Do you need to meet targets and outcomes at work? Is this difficult and you don't know where to start or have you tried unsuccessfully to get stuff done and keep stalling, procrastinating or unable to meet deadlines? Therapy can help you to start to look at what's been holding you back. This can be through a lack of confidence, self-esteem and self-worth and I can work with you to build your confidence and how you feel about yourself to begin to set and then achieve those goals.
Do you want a more positive relationship with yourself and others?
I see clients who seem to go from one unsuccessful relationship to another and lose confidence in themselves and other people. Sometimes they notice a pattern in what happens when they are in relationship with a partner, everything seems to go well initially then once the first flush of romance passes they start to notice they are not so compatible and the same issues rear their heads time after time. Why does this keep happening to me? I hear this often, and as a therapist I can begin to look at your relationships and start to support you to set boundaries and improve your communication, both with yourself and the people close to you.
You don't have to have a mental health issue to see me
START THE CONVERSATION

I was in Port Edgar earlier today, between the 2 road bridges, watching the Forth flow past, onwards under the rail bridge.
The view is iconic and the photo (Courtesy of the Guardian) catches the scale and drama astride the River Forth. Two of the bridges are for road and one for rail traffic, the county of Fife and city of Edinburgh see a daily flow of thousands of people and vehicles. Both places need this arterial connection of bridges for daily life, commuting, work, travel and leisure.
It occurred to me as a metaphor for the 3 ego states, Parent, Adult and Child and how we need all 3 to function effectively. When I look at the river I see how the unconscious ripples in waves, sometimes calm and then stormy and tempestuous and how the energy flows between the bridges and ego states. The Ego States can be activated and busy in the same way as when the traffic and trains are working at peak times or shut down and deactivated when there are faults on the line or when an accident or repairs are required.
Boats of many kinds and sizes bob and sail up and down the river, buoyed along by the tides, currents and winds, tacking and turning to make headway. I began to think about the boats as our thoughts, feelings and behaviours which ebb and flow, sometimes pushed along by the currents and breezes which weave between the bridges and how our attention can focus on a particular craft whilst others fade into the background, still there but unnoticed.
I then thought about how the nautical charts and maps out the safe course for marine vessels and makes clear where the hazards lie, such as sandbanks and wrecks, strong dangerous currents and jagged rocks on which the vessels can founder. The analogy fits the role of the therapist and how the work we do, brings all these factors together in a 3 dimensional view, to spot where the difficulties are to steer a safe and successful course through the journey towards the destination, together.
The 3 bridges need regular checks and maintenance to keep them safe and working well, the Forth Road Bridge was closed for several months, inactive whilst traffic started to use the new Queensferry crossing.
The metaphor might be understood as the Forth Road bridge as the Adult ego state, quiet and underused, the Rail bridge as the Parent and the Queensferry crossing as the Child ego states. The Parent dominating the landscape, powerful and imposing. The Queensferry crossing, busy and bustling, getting attention when there's and accident or incident, stopping traffic!The Adult under repair and strengthened and open for business, each bridge and each ego state making their contribution in smooth functioning and well being.
I have lately been reflecting on my new office and consulting space. 
Work starts soon, in the next couple of weeks, and I have been thinking of this new beginning as a metaphor. The office, as it is, is empty, run down, shabby and needing major upheaval to change. The effort to change into something else is considerable. Just putting a quick coat of paint, new blinds and carpets will simply not be enough. The fundamental shift required to change from a hairdressers shop (where we are)into a safe, secure, comfortable and therapy space (where we want to be) requires planning, expense and investment of time and money.
And so it is for those who recognise their lives have become mundane, banal and empty and have tried to make changes, to put a surface coat of normality and functioning but its' really not worked. they become stuck, not sure where to start with their life renovation and recognise they need some support in this project planning " to put a new show on the road" (Berne).
I might liken the process of therapy to the client as the existing office, absolutely OK in their essence and recognising a deep sense of unease as to how they feel or function in their own skin. They can continue to operate as a run down shop or hairdressing establishment, not really getting anywhere or undergo a refurbishment which entails considerable commitment and motivation. As with any change it's not easy. The therapist could be seen as the architect of change"What is it you want to do here?", what needs to be done first, and then next? The therapist offers the client their training and expertise in turning the client's "building" into somewhere soothing and settled, somewhere to be themselves, to find what they need.
The metamorphosis of the caterpillar into the butterfly takes time, energy and enormous reorganisation of their internal world. The metamorphosis of the individual in therapy is no less profound.
I will keep you posted on how the office metamorphosis goes!Work in progress!! here's the before photos.
It occurs to me that there are times in all our lives when we are moving on whether in our relationships, careers or making/ changing decisions. 
During this time of change we may make big or little steps in the transition as we change from one way of being to another.
Perhaps most of the time we don't consciously notice or even reflect on these important milestones in our lives. We may respond unconsciously to a feeling of restlessness or dissatisfaction or an urge to get away and so miss an opportunity to recognise a old familiar feeling or pattern in our lives.
I have had cause to think about these issues recently. I have felt comfortable and settled in how and when I work but have experienced feelings of stress and tension about continuing to work this way. I work with The Women's Rape and Sexual Abuse centre in Dundee which I have been since 2009, and started student counselling with the local university last year as well as in my own private practice.
An opportunity surfaced to look at renting an office space in St Andrews which got me thinking and when the office came up for sale I begin to consider that there may be more options open to me than I first thought.
Well, here I am now, with support from my family, to buy the office and focus my private practice,which has been fairly remote and rural, to being part of the town of St Andrews.
This has meant making important decisions about how I want to work now.
I have taking time to reflect, speak to peers, colleagues, family, friends and my close TA buddies. I could continue to keep everything going, to make sure all the plates keep spinning or I could do something very different, to make a move out of script.
So.... here goes....I have spoken to WRASAC and the University and given them notice of my moving on, which i do feel sad about.
I am going to work in my new office space in St Andrews as from late summer, early autumn, depending on the progress of the renovation work. I plan to be there 3 days a week, which will give me structure for my week and also increase access to therapy for local people. Here it is, the "before photo"!!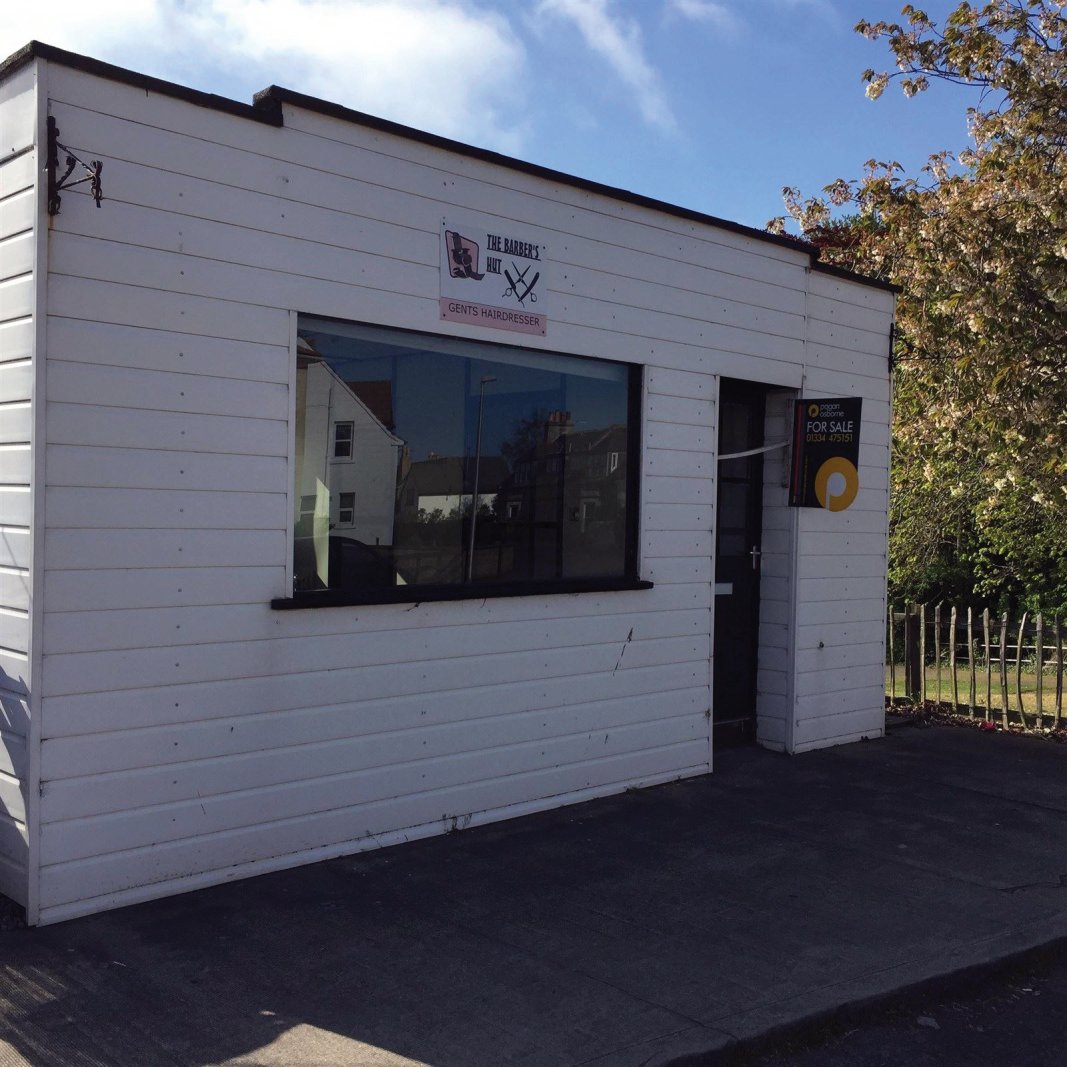 My new place is in a quiet residential area of St Andrews with a lovely park behind the building. The office has a main consulting room, a waiting area, toilet and a small kitchenette. The front window will be changed to be opaque and there will be a small discrete plaque on the door saying "St Andrews Counselling & Psychotherapy". There is on road parking.
What do you think about my new venture? Will you come and see me here?
Watch this space for the "after photo"!!!!
I was reflecting on my therapy work today and began to think about the client's I see week to week in my practice.
I probably see an equal number of men and women ranging from their early thirties to mid fifties. Most are very successful in their chosen careers and businesses. Some work in the public sector or have thriving full-time or part-time businesses they have built from the bottom up.
I have noticed that they have worked long hours and overcome adversity in becoming a success in their working lives.
Often they come to see me because despite their success and acquiring what they wanted they now find themselves alone, lonely, or struggling to find or maintain a close and loving relationship. They may have found what's  made them successfully in their working lives just doesn't seem to transfer into their personal lives.
They come to see me to find salve, a type of soothing ointment, for their souls. To begin to look at what they want from life, how to improve their relationship with themselves and to work through relationship difficulties with those close to them.
Often, I find, when the relationship they have with themselves improves and they understand and have self awareness of how they communicate, their personality and internal world, this positively impacts and improves their relationship with others.
Phone me today to book your appointment on 07824700980
I know when people contact me by email, text or phone they will have a picture in their head of what I look like, how old I might be and be curious about my accent. Some will have looked at the website and seen my photo (which I do update and is not photo-shopped).
I wrote this blog to give you another dimension to me as a counsellor and to let you know what my clients and colleagues say about me.
Clients say I am a warm and friendly person who they feel a connection with quickly and also feel safe with, and that I can be trusted. Others have said that they like my sense of humour and ability to laugh with them. I have been told that I am a very good listener and that they feel able to tell me things that they haven't told another human being. I feel truly honoured to be entrusted with their worries, concerns, thoughts and feelings about their lives. Clients have also said that I am respectful of them and take my time to allow them to tell me about their lives and the difficulties they face. Often clients will tell me that they feel better after a session and that something has been soothed in them, or that they understand themselves a little more and experience compassion for their situation and for what's happened to them.
Colleagues say they experience me as wise, empathic and having a maternal or motherly energy about me. They enjoy my fun sense of humour and how much I love to laugh with them. My colleagues also refer people to me for counselling and psychotherapy. They describe me as intelligent, warm and supportive.
I love my work. I get to meet people, get to know them, work together with them and support them to feel better and move on with their lives.
Is there anything you would like to know about me as a counsellor?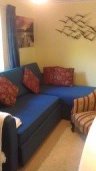 In the St Andrews Counselling and Psychotherapy blog I have covered a number of different topics which I work with clients, how I work and some basic information on Transactional Analysis. 
In this blog I wanted to share with you the environment in which I work. I decided to work from my own consultation room over 2 years ago. I wanted to provide a comfortable, reassuring and peaceful place in which to support the client's healing process.
My consultation room is situated in a quiet, rural environment with ample parking and a confidential way to access and leave without encountering other people.
The photo here shows how the décor and furnishings are both comfortable, practical and easy on the eye. I choose neutral pastel colours for the wall and carpet which contrast with the sofa and chair in bright blues and reds. Wall art provides seascapes and panoramic views and natural life. Across the hall is a private bathroom and toilet.
Behind the sofa is a large bright window which illuminates the whole room and looks out onto gardens, then across fields with the sea on the horizon. There are no other buildings for half a mile and so not overlooked by other homes or offices.


This is the view from my consulting room window. In the distance the sea can be seen and we have great views of the Bell Rock Lighthouse.
This room has been designed to be a peaceful, tranquil haven from the outside world where clients can relax and talk about what's troubling them. This setting supports the development of the therapeutic relationship and balances the concept of a counselling and psychotherapy consultation room with a relaxed and informal space, with few distractions.
My clients have all commented on how warm, welcoming and comfortable the consulting room is and quickly relax into the session. We often share a tea or coffee together whilst we get to know one another.
If you would like to know more about where I work and what I do and if you would like to meet me to discuss what's bothering you, then give me a ring on 07824700980.

When looking for counselling or psychotherapy, there is no shortage of adverts and websites on the internet nowadays.
Why not shop around and put together a shortlist of counsellors who meet your criteria? There are a few practical considerations in choosing a counsellor such as how far away from you do they live? You might need to choose someone close by within walking or a short bus ride, or if you live in a small close community and have access to a car you may want to see a counsellor who lives some distance away.
How might you feel about bumping into them if they live in your community might be another issue to think about?
Research has shown, time and time again, that successful outcomes to therapy depend on the relationship between therapist and client and feeling there is a connection between you. So phone a few before you make a decision, arrange to meet for a no obligation initial appointment with the therapists you feel you connect with on the phone.

There is also the financial cost of therapy to be weighed up against other commitments you might have. Therapy/ counselling can be a sound financial investment as improvements in your mental health and emotional well being impact on your home life, close relationships and work/career prospects. Good therapists will be open to explore initial short term contracts over a 6 to 8 week period to evaluate your progress and for you to decide whether to leave things there or go on.
To get the best from therapy you should ask yourself "What do I want from therapy"? Being clear about your expectations and how will you know when you get what you want from therapy?
There are of course the other issues to think about:
1. Are they a member of a reputable professional body, have insurance and have regular robust clinical supervision?
2. Do they have knowledge and experience in working with your issues?
3. Do you feel you will be listened to, heard and understood?
4. Do you feel confident that the therapist is open and non-judgemental?
5. Are they bold, confident, have integrity, empathy, genuine warmth and humanity?
6. What can they offer you in the way that they work, ask them to explain this to you and how this would be helpful for your issues?
I hope you have found this short guide on "What to look for in a counsellor or therapist" useful?

If you would like to know more or have a no obligation telephone conversation then give me a ring on 0782 4700980

Hello There!
Thank-you or taking the time to look at my blog. I hope you have found something of interest to you?
Do you have a few moments to complete a quick survey about my website and services please?
This will help me get feedbackon how you have found us and what we are doing well and what could be improved upon?
Please just click on this link
Thank-you for your help
I finally bit the bullet and posted a video on You Tube!!
WHY?
Well....having given this some thought I reckon if people are thinking about counselling or therapy and are looking at what's on offer locally then to see and hear me might ( or might not) help.
Being a therapist I am used to be with a client or group of people, interacting and working together on a goal. Speaking into a webcam about myself is a very strange experience indeed.
When people are starting to look for a therapist websites usually come up during a search and they have to plough through words which give them an idea about what the therapist can offer but gives little indication as to what might this person be like. A photograph might fill in "what do they look like" and so make a decision "well, they look ok".
All this is what's called "transference", we transfer onto another certain attributes which may be positive or negative. Transference includes "they remind me of  X, and I liked them, so I will like this therapist" or " the therapist reminds me of Y and I didn't like them at all, so I won't like this therapist" and move onto the next website. Of course all this happen subconsciously out of awareness and is a first impression which we attach great importance to.
A video won't get rid of the transference, in fact it may well heighten the effect. So give the video a go, tell me what you think...be as kind as you
can.....
/