Shopping Cart
Your Cart is Empty
There was an error with PayPal
Click here to try again
Thank you for your business!
You should be receiving an order confirmation from Paypal shortly.
Exit Shopping Cart
| | |
| --- | --- |
| Posted on 17 February, 2018 at 11:03 | |
I can't recall where I saw this but it was along the lines of "self-care doesn't mean scented candles".Maybe that's where we go when we think about "treating ourselves". However, looking after ourselves requires us to look after our most basic of needs.
Attending to our very basic needs when depressed or anxious can seem overwhelming.
By basic needs I mean, enough sleep and rest, nutrition and fluids, personal hygiene and physiological homoeostasis (bodily functions).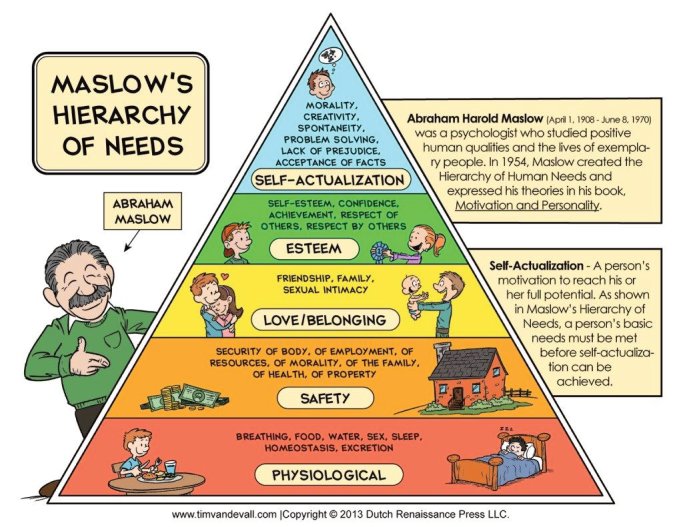 Maslow's Hierarchy of Needs (diagram on the left) illustrates how we need to have our basic physiological needs attended to before we can move up to the next level (

Safety

).




I have found that often these needs are neglected when anxious or depressed and stressed clients come to therapy. People come to see me with issues such as Love/Belonging and Esteem levels further up the Hierarchy of Needs




Good enough self-care starts with sleep hygiene, setting regular times to go to bed and get up, even at the weekends! Keeping your bedroom cool and dark and only using your bedroom for sleeping. Having a warm bath or shower before bed to help your body produce sleep hormones and avoiding caffeine and alcohol in the afternoon and evenings. Exercise is helpful but not 3/4 hours before bedtime and avoiding the use of blue screens on phones, laptops or tablets.Breathing techniques can also help, both for initiating sleep but also a useful technique to cope with anxiety/overthinking:




Breathing in through your nose until you feel your lungs full, don't force this and then open you mouth and breathe out fully. Follow this link for a helpful graphic.

https://media.giphy.com/media/xThuWfz7fNOXwiBLY4/giphy.gif




Sleep is vital for our physical and mental health and well being, it's so much more difficult coping day to day with low mood or anxiety when tired.




Looking after yourself can also include counselling or talking therapies to attend to these very basic needs and then to work on Safety, Love and Belonging and Esteem.




Take care of yourself!!!!














































Categories: Anxiety & Depression

0

/