| | |
| --- | --- |
| Posted on 20 October, 2018 at 14:31 | |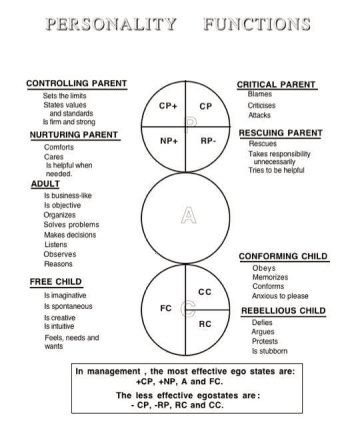 I often use what we call the functional model of ego states to illustrate what might be happening in the clients internal dialogue.
This diagram explains aspects of our personality and how we communicate with ourselves, or the intrapsychic dialogue.
We all have the ability to reflect and know which ego state we could be in and the headings, underlined, and subheadings explain when we are in this ego state, thinking feeling and behaviours.
We do need all our ego states, Parent, Adult and Child, and we have a choice and can decide which ego state might be useful to us at any given time.
Firstly with your therapist to understand when, where and why this could happen in your own internal dialogue. This structured reflection and feedback can help you to familiarise yourself with your unconscious process and bring this into conscious awareness.
Once you become aware you can be supported to use your ego states to support your move from less helpful aspects of your personality that might be limiting your life, or causing mental health issues (such as anxiety, depression and/or relationship issues) to a more helpful way to self-soothe, calm self and open up your options around thinking, feeling and behaving.
Want to know more?
Categories: Transactional Analysis
/