| | |
| --- | --- |
| Posted on 10 July, 2019 at 12:38 | |
How is the summer for you?
Often there's plenty going on, lots to do, getting out and about when the weather permits in Scotland!
There's holidays to plan either ahead or to get the last minute deals to seek the sun and heat abroad.The planning takes the foreground, packing, checking the passports, printing the boarding passes, organising the children and family and attending to the last minute hitches.
When we are in this state of mind we have enough to keep ourselves busy and away from the stuff worrying us. We are preoccupied with "getting away" and looking forward to relaxing, chilling out and put alot of emphasis on the holiday being a time to forget our woes, worries and low mood. The anticipation of our holiday solving these issues lasts perhaps until we get back.
Often cracks begin to appear on holiday, the change in routine, late nights, long lie ins, too much food and booze, family fall outs and arguments, bring our problems into sharp relief.
I often see clients who have found that their lives seem to fall apart on and after a holiday, they were holding things together in the hope that the holiday would solve their problems, putting off addressing the underlying issues.
If you have returned from holiday and this blog article resonates with you then contact me on 07824700980 or email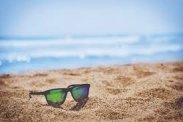 [email protected]
Categories: Is counselling for me?
/